Distance Learning for Preschool Students
Distance Learning for Preschoolers, OR Sunshine Daily Learning Program (DLP), is an expansion of our Online teaching program where we offer our Curriculum, Training, Monitoring, and even Daycare support Online. Our Distance Learning Program for preschoolers aims to educate children who are unable to be physically present at regular classes in school every day.
Daily learning program for preschool kids consists of excellent programs tailored to internationally acclaimed preschool syllabi. It is India's most comprehensive preschool program with 900 plus hours of content split into various themes like 'Good Habits,' 'My Body,' 'Vegetables', 'Seasons,' 'Festivals,' and many more. It also includes full-fledged learning programs that cover an entire academic year's syllabus for Playgroup, Nursery, LKG, and UKG and is also accessible on Android & iOS app stores.
The benefits offered by DLP for preschool education includes:
Offers several programs to meet the unique educational requirements of your child.
Gives the flexibility required to meet the child's needs.
Is convenient for the children and parents.
Helps to develop confidence in kids.
Offers lesser distractions.
Enables parents to track the child's learning better.
Distance learning for preschool students is a more cost-effective option.
For children and parents, it is a boon in these pandemic times where the child can get access to preschool education & activities right at home.
Distance Learning Preschool Lesson Plans
Distance learning preschool lesson plans for playgroup and nursery:
Lessons and activities to enable kids to recognize numbers.
Identify the basic methods of transport.
Learn better about their physical, mental, and emotional selves.
Help them make healthy food choices.
Understand their family and about the diverse family structures.
Recognize and predict patterns through various activities.
Grasp the fundamental concepts of mathematics.
Identify animals and recognize colors.
Develop their fine motor skills and become writing-ready.
Distance learning preschool lesson plans for LKG/ UKG:
Essential understanding of various body parts.
Learn about various animal habitats.
Explains community helpers and enables them to recognize such helpers.
Learn better about their physical, mental, and emotional selves.
Students can listen for and recognize consonant blends.
Introduce shapes to the children.
Use visual components to help students understand narratives.
Understand their family and about the diverse family structures.
Teaches concepts of comparing numbers of objects in terms of more, less, and equal.
Introduces the concept of weather to the kids and enables them to understand the different weather conditions.
Distance Learning Preschool Activities
It is a full-fledged year-long program with online preschool classes where the teacher helps the child achieve holistic learning by engaging children in constructive learning activities every day. Our preschool distance learning activities include:
With tracing tray activity, the preschoolers will be able to learn letters, numbers, and sounds and develop pre-writing skills.
Counting work activities aid in introducing numbers to preschool kids.
Rulers and clothespin is a set of activities that enhance finger and hand strength for the students and improves their motor skills.
Looking for letters and numbers activities provide visual aids to preschoolers to comprehend letters and numbers.
Take A Taste test teaches about the sense of taste and the basic available food tastes.
Measuring things introduces the basic concepts of measuring.
Try mixing color is an art activity that enables students to understand measurement concepts, scientific observation, learning, and comparison while simultaneously enhancing their motor skills, mathematical skills, and problem solving skills.
Five senses fun allows kids to explore and understand their surroundings using their senses.
What will Your Child Learn in Preschool Distance Learning?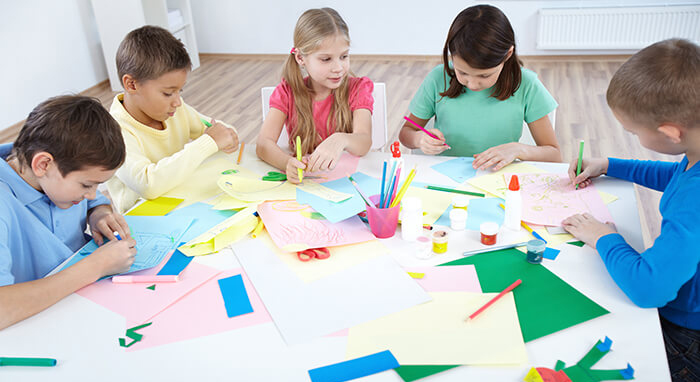 The child will learn many things during our online program like:
Building confidence
Analyzing things around
Ability to think and react
Using of technology
Additionally, preschool distance learning enables kids to learn several other skills that include linguistic skills, cognitive skills, creative skills, Interpersonal skills, fine motor skills, and gross motor skills.
What are the Benefits the Parents will Get with Preschool Home Learning?
Parents can gain several benefits from the preschool home learning program. These include:
The kids can learn in the safety of their home environment instead of venturing outside during the pandemic.
Kids can learn at their own pace.
Kids can interact and socialize with other kids.
Why is Preschool Distance Learning the Best Way to Nurture and Engage Your Child?
Preschool Distance learning provides several ways to nurture and engage your child. These include:
The program will help your children find answers to their numerous questions.
Help them learn in a structured way and become tech-friendly.
Students can study and understand at their convenience, i.e., flexibility in their learning.
Preschoolers can learn from any part of the world and get a degree/certificate of completion.
100% support given to kids and working parents by providing adequate backend support.
Why do Parents and Preschool Students Love Sunshine's Home Learning Program?
Sunshine is always ready to answer the numerous questions asked by kids during the classes, thus providing wings to their confidence. Children who enroll in Sunshine's online classes attain better pre-reading skills, richer vocabularies, and stronger basic math skills than those who do not. Sunshine not only teaches what is part of the curriculum but much more to keep the kids ahead when compared to kids who are not enrolled with us. Basically, it develops kids' reading skills, confidence, communication skills, and various other skills required by a preschooler.
Thus, as every child is different and has a unique learning style, kids may not always learn by textbooks but also by playing. So Sunshine is a perfect place to enroll your kid where we provide a PLAY WAY method of teaching/learning.
Frequently Asked
Questions
Here's the term based annual fee breakup for each class, along with the benefits provided:
| Age | Class | Yearly | 1st Term | 2nd Term | 3rd Term |
| --- | --- | --- | --- | --- | --- |
| 1.5 Yrs to 2.5Yrs | Playgroup | 37,000 | 15,000 | 11,000 | 11,000 |
| 2.5 Yrs to 3.5 Yrs | Nursery | 37,000 | 15,000 | 11,000 | 11,000 |
| 3.5 Yrs to 4.5 Yrs | LKG | 40,000 | 20,000 | 10,000 | 10,000 |
| 4.5 Yrs to 5.5 Yrs | UKG | 40,000 | 20,000 | 10,000 | 10,000 |
DLP is a 12-month program for each class of Playgroup, Nursery, LKG, and UKG.
We enroll children between ages 1.5 yrs to 6 yrs for DLP.
We follow an internationally integrated curriculum designed by CfBT UK, a Global educational giant with expertise in defining international standards and monitoring guidance by Old Station Nursery Chain, UK.
Key unique factors of Sunshine DLP:
Live, real-time interactive sessions.
A teacher to student ratio of 1:20.
Child has the option of visiting the nearest Center as per convenience.
Certificate awarded at the end of the year as in a normal school.