Online Preschool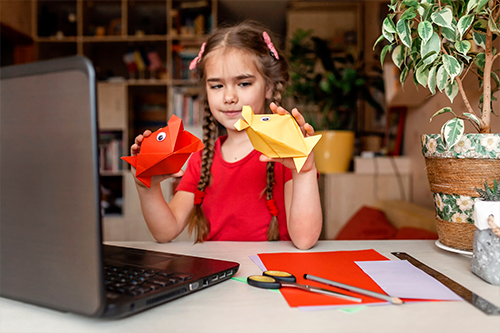 An online preschool program is created to ensure the holistic development of kids aged between 1.5 to 4 years. Due to the COVID-19 pandemic, the parents are reluctant to send their children to physical classes. Therefore, virtual schooling is an ideal solution for parents to continue their kids' education safely. Online learning enables kids to cultivate observation, analytical, and problem-solving skills. The expected learning outcomes are similar to a real-time classroom environment.
Sunshine, a pioneer in providing preschool education since 2005, has been trailblazers in furnishing online classes to Preschoolers since 2019 to learn from the comfort and safety of their homes. Our best-in-class online preschool curriculum offers an enriching and practical education experience. At Sunshine, our courses include specially formulated study materials for math, science, first and second languages, history, geography, art, music, sensory exploration, and practical life skills for preschool kids.
Our digitally enabled classes prepare the children for the more complex and advanced education of the higher grades.
What are the benefits of an online preschool?
Online preschool classes have several benefits. Some of these benefits are described below:
Student Engagement: A comprehensive kit of learning materials is designed to enhance student engagement. Student engagement helps to increase their concentration and focus, encourages them to apply advanced critical assessment skills, and improves the learning experience.
Children Continue Learning From The Safety Of Their Homes: In the pandemic situation, it's safe and convenient for our children to stay at home and continue their learning process with proper guidance and structured curricular and co-curricular activities to ensure the child's holistic development.
Inculcates Patience and Discipline Among Kids: Kids crave the attention of teachers and even parents at home and have very strong observation skills. Being patient and disciplined enhances their learning process. Understanding the value of punctuality and completing tasks on time drives them to work and perform better.
Offers Flexibility: If the child misses the class, needs to revise a section, or clear doubts, recorded sessions are available. Additionally, continued guidance and support are given through WhatsApp by the assigned teacher. Therefore, learning is not hampered, and the child enjoys doing the assigned task with ease.
Helps Kids Make New Friends: As kids are not allowed to go out and play, their world has completely altered. The online platform exposes them to kids of their age hailing from different regions. Interactive online tools and digital curriculum enable online classes to mimic real-time school environments and enhance student interaction.
Learning at Their Own Pace: In a class, teachers need to supervise and instruct all the children. They cannot always provide adequate attention to everyone, adversely impacting the students who are struggling with the subject. However, online preschool classes enable kids to understand the topic better before beginning another one.
Online Preschool Classes

Conceptual Learning
Our theme-based, age-appropriate, scientifically planned curriculum with activity-based learning and using play-way methodology makes learning fun, lively, and interactive. Concepts are taught using online tools and learning aids.
Conceptual learning focuses on developing the kids' comprehension abilities by helping them connect with known concepts through mind maps and gauging their conceptual understanding so that they achieve age-appropriate milestones.
Our conceptual learning and cognitive skill development activities include sing-a-longs, phonic songs, drills, identifying different sounds, practicing storytelling, asking and answering questions, learning alphabets and numbers, and various engaging games.

Socio-Emotional Development
Preschoolers need certain social and emotional skills to transition smoothly into school life. These help them have positive associations with peers, incorporate good manners, solve social problems, understand and follow instructions, and communicate their emotions effectively.
Our socio-emotional development activities aim to teach kids about their heritage and culture, ethics, and moral values like sharing, caring, friendship, and right behavior. They help kids become ethical and responsible citizens in the future.
Activities aimed at enhancing a child's socio-emotional development at our virtual preschool include narration of educational stories, anecdotes, and true events, journal writing, emotion management activities, problem-solving activities, giving age-appropriate responsibilities to kids, etc.

Physical Development
Our online classes ensure that kids get multiple opportunities to run, play and do activities they enjoy. These activities make kids more physically active, ensuring that they have a strong body and mind.
Interaction with their peers is encouraged to maintain healthy rapport, strengthen their friendship with fellow kids, and promote better teamwork among kids.
Our physical development sessions will include dance classes, self-defense classes, yoga and meditation sessions, and various games to make them active and keep them healthy.

Curiosity Development
Children start understanding the world around them through the concepts taught during the online preschool lessons.
Worksheets and subject-based homework and assignments are given to monitor the child's understanding level and progress constantly.
Creative Arts and craft activities allow children to explore and discover their hidden talents paving the way to a holistic learning process.
Online Preschool Activities
Sunshine is among the best online preschools and focuses on harnessing kids' seemingly endless energy to channel it towards productive and fun activities. Our preschool's online learning curriculum has the following activities:
Activities that focus on getting to know more about nature and exploring it like planting potted plants, identifying animal sounds, etc.
Art and craft activities using various mediums like freehand drawing, colouring shapes and pictures, painting, etc.
Activities that aim to expand the kid's vocabulary and language skills like reading and reciting stories and poems.
Online preschool activities are designed to encourage kids to share their thoughts and actions, learn to manage emotions better, and create a positive self-image.
Analytical and decision-making activities like solving puzzles, sorting games, etc., enable students to become more independent in following routines.
Activities that enable students to interact more with peers online and engage in meaningful relationships with others.
Online Preschool Lesson Plans
We have devised effective lesson plans that include opportunities to involve the kids in various activities and let them perform different tasks easily. Each lesson plan component is based on a theme.
Our online preschool curriculum is intended to have the following objectives:
Learning processes (e.g., attention, observation, memory)
Cognitive skills (e.g., reasoning, classification, comparing, and contrasting)
Acquisition of specific information (e.g., the names of letters of the alphabet and numbers) and comprehending basic concepts of mathematics and language.
Modules to enable kids to understand their physical, mental, and emotional selves.
Modules that develop their fine motor skills and make them writing-ready.
Pattern recognition, color recognition, and object recognition activities (animals, birds, various forms of transport, etc.)
Lesson components that help them make healthy food choices.
Helping kids understand their family and different family structures.
Sunshine's Virtual Schooling Program Highlights
The following are the highlights of Sunshine's virtual preschool program:
Easy to access online classes using Android or Windows operating system and any computer, smartphone, or tablet.
Highly skilled, experienced, well-mannered, and friendly teachers and technical teams.
Age-appropriate, international-standard, and scientifically planned curriculum with activity-based learning,
The online preschool curriculum is taught using the play-way methodology to enhance the learning process.
Fun, interactive, and engaging virtual preschool classrooms to ensure a more productive learning experience.
Students' kits provide age-appropriate learning aids and stationery for reinforcing learning.
Whatsapp groups to reinforce what's learned in class, interact with teachers and peers, and clear any lingering doubts.
A certificate of completion will be given to the kids by the end of 52 weeks.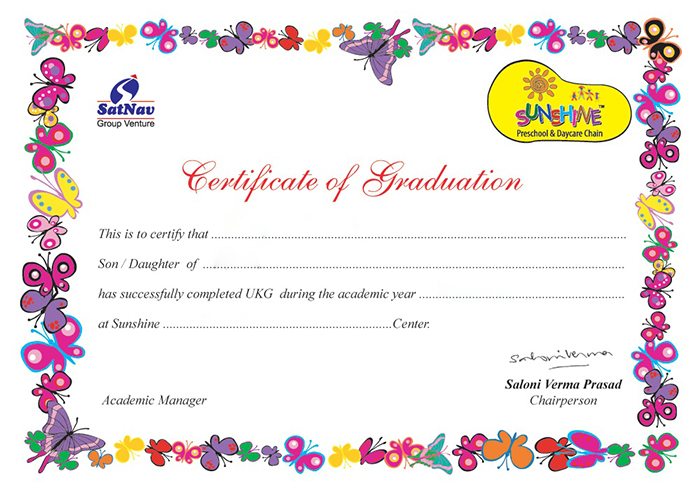 Why is an Online Preschool Program the Best Way to Nurture and Engage Your Kids?
In the current times, preschool online learning is among the best and safest ways to educate and nurture your child. Some reasons for this are given below:
Maintaining a routine and staying disciplined and organized
Educational tools that increase student engagement
Interactive learning at a student's own place
Accessibility of time and place
Why is Sunshine the best online preschool provider?
Sunshine is among the best online preschool providers in India, ensuring children get high-quality, safe, secure, and well-structured learning environments. It is among the most effective learning mediums for preschoolers to learn and improve their early schooling skills. Sunshine offers an exciting, age-appropriate online preschool program that is designed to ensure your child has the best possible start in life.
Their curriculum includes interactive class sessions including songs, stories, poems, etc. It is created to support children as they develop their social, emotional, and cognitive skills. It is scientifically designed by experts and teachers who are passionate about early childhood development. Their program is created to help young children develop key skills in literature, math, emotional intelligence, and social and physical development.
Frequently Asked Questions – Online Preschool
Sunshine is a pioneer in introducing preschool and daycare in the country back in 2005. Now we offer our curriculum, training, monitoring, and daycare support online. We expect our new online school project to be a game-changer for the preschool industry in India for independent brands and established franchisee chains by bringing in a business model that makes the sector more viable than it has been so far.
The class-wise cost for each student kit is as follows:
Play Group/ Nursery – 3500/- Rs including bag
LKG/ UKG –4500/- Rs including bag
Daycare kit – 1000/- Rs including bag
Contents of the student kits:
The items required by students include report cards, L-folder, and theme stickers. Bags are mandatory so that the books are maintained in good shape. The components of each kit are given as follows:
Junior Day Care- Activity sheets (150 sheets), crepe papers set, crayon box, puzzle box, drawing box, paintbox, paintbrushes, palette, sponge set for dabbing, small play dough set, ice cream sticks, L-folder, school bag
Senior Day Care- Activity sheets (150 sheets), sketch pen set, color pencils, glue stick, quilling set, paintbox, paintbrushes, palette, designer cutter, art, and craft color papers set, junior geometric box, A3 size drawing book, L-folder schoolbag
For Playgroup - Picture books, rhymes books, Colour Craze (a book on drawing and colouring), Colour Craze (skill sheets on drawing and colouring), scrapbook, activity sheets, school diary, report card, L-folder, theme stickers, and schoolbag.
For Nursery - Rhymes book, patterns, Number-A (1-20), My Skill Book Math-A, Alphabet-A, My Skill Book English, activity sheets, scrapbook, school diary, report card, L-folder, theme stickers, schoolbag.
For LKG - My Skill Book Alphabet Capital, Alphabet-D, Numbers-B, My Skill Book Math-1, General Knowledge-A, My Skill Book Alphabet-Small, My Skill Book Math-2, Phonics, Art and Activity- A, activity sheets-(2 sets), Hindi-1, Hindi–Shabdachitra, school diary, report card, L-folder, theme stickers, schoolbag.
For UKG - Numbers-C, Hindi Praveshika Bhag-1, General Knowledge-B, Phonics-B, Art and Activity-B, square ruled book, four ruled books, Hindi–2, activity sheets (2 sets), cursive writing book, school diary, report card, L-Folder, theme sticker, schoolbag.
WNo, the kit includes the books, L-folder, report cards, theme stickers, and activity sheets.
Renewal fees will remain the same if you wish to continue for the next year.
Since the staffs differ, and the training and guidance are required for two separate teams, you will be charged separately for two schools.
Sure, it would be great if you could visit our office to have a detailed discussion on our curriculum and also have a look at the teacher's kit. The kit has 392 items. You can also order one set of books from us, and we can courier it to you.
Our training consists of different aspects of the curriculum, followed by lesson plans and implementation of the same. Therefore, there is little benefit for you if you take only training. However, training can be given on general topics like child handling, safety measures, emergency handling, etc., related to Center Head and other staff on a need basis at Rs. 5,000 per training.
The costing shared with you is very competitive in the industry and based on various aspects. This is a good long-term investment because we help you run your school more effectively with no stress of staff training, parent handling guidance, etc. We provide an end-to-end solution to run a successful preschool.
You could partner with us by continuing with your brand. We can help you in different aspects of staff training, curriculum, monitoring, designing lesson plans, parent handling, safety measures, etc. As pioneers in this field, we can offer the necessary guidance and support on daycare and infrastructure guidance at reasonable prices.
We are pioneers in preschool and daycare services since 2005, and CfBT UK designed our curriculum. We have a well-designed training program which is scheduled weekly for a year. Training covers various child care topics for different daycare employees, including the Centre Manager, school and Daycare faculties, caretakers, and security guards. This online training allows your team to log in from their respective centers. There are quarterly assessments, and participants are given a certificate by the end of 52 weeks if they participate in all the sessions.
We operate the books component on a 'cost plus' model, ensuring it's reasonably priced. Most cheaper options have fewer books, and fewer topics are covered. We have designed an age-appropriate curriculum and school kit that helps the child develop holistically. We support the child in developing crucial skills like cognitive skills, motor skills, socio-economic skills, language skills, etc.
Yes, we can help you with infrastructure and recruitment support at an additional cost after visiting your location.
We collaborate with several corporate clients to provide daycare services. We share the list of our company-owned schools and franchisee partners with our clients so that their employees can benefit from our nearby daycare services at a reasonable cost decided by the Head Office. These parents also may use the preschool services based on their requirements.
We help you get admission to your Daycare center based on our partnership and location. If there are any children in your area, you will benefit. We offer our complete support on daycare admissions to our partners. Another effective value addition is that as our corporate partnerships expand, you have the chance to expand your daycare services. Our clients can directly start using any of your centers, leading to better revenues for both our companies.
ROI depends on your projected revenues. If you consider only school revenues and are above Rs. 10 Lakhs, all our packages come for less than 10%, ensuring high ROI. Likewise, if your center is located in an area where daycare admissions can come from companies we tie up with, the ROI will zoom higher.
Recurring cost shall be Rs. 1 Lakh per annum
We have around 75 monitoring checkpoints. With our monitoring checklist, you can ensure a safe and hygienic environment for the kids at your school. In addition, it helps to evaluate and improve the teaching skills of the staff, classroom, and school setup.
The Operations and Academic Team will help the partner closely monitor curriculum implementation, provide 30 minutes of support over calls or WhatsApp for the first month and provide unlimited email support.