6 Easy Activities You Can Do at Home with Your Children to Develop Their Language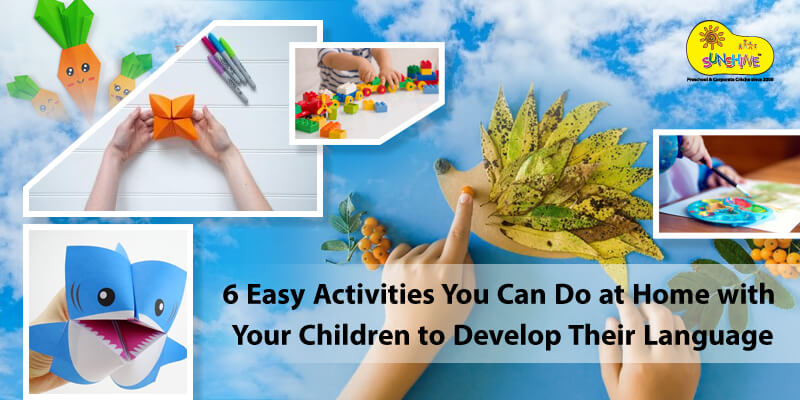 The early years of your children are filled with wonder and awe and should never be underestimated. This is when children build their foundation where they learn how to express and discover themselves. Reading and language development plays a huge role in their eventual success. Most children learn to listen, speak, read and write from infancy to 6 years of age. Children who can read and write by the time they are six years old are expected to become successful students.
If they don't learn to speak and read even during this stage, they might face various behavioral challenges such as delayed speech, low self-esteem, and frustration due to being unable to express themselves. So it's extremely necessary for language development in a preschooler.
Given below are some language development activities for preschoolers:
Read storybooks to your children

Reading stories is among the best language development activities for your children. You should include storytime in your daily routine. Try to have conversations around the story and the images in the book with them. Also, encourage them to repeat the words and name the objects in the book, allowing them to imagine the narrative.

Name everything instead of using pronouns

When talking to your children, avoid using vague pronouns or slang. For example, instead of saying "please bring it here," where "it" is vague, try saying "please bring the book here." Name all objects in your children's environment correctly and meaningfully. Your children will slowly but surely learn these words.

Complete the rhymes

Singing rhymes to children can help develop their language skills. You can sing a rhyme to them and let them fill in the missing word to complete the rhyme. e.g., Baa, Baa, ____ Sheep, Humpty Dumpty sat on a ______.

The power of role play

Roleplay or pretend play is an important way to develop your child's language. Whether it's roleplaying to be the police catching a criminal or a firefighter saving lives, no one can underestimate the power of pretend play. At the end of the day, children love to pretend to be those they like.

The mystery box game

It is among the most common activities to promote language development in preschoolers. This fun activity involves a mystery box or bag filled with various objects that are found at home. You can take out objects one by one while the children name them or name objects as the kids take them out.

Talk with your children every day

One of the most important ways of language development in preschoolers is by talking and communicating with them every day, from time to time. Engaging with your children in meaningful and interactive conversations will increase their knowledge and help them speak more fluently.
Sunshine Preschool & Daycare during its classes provides various fun and productive activities like art and craft, reciting stories and poems, solving puzzles and sorting games, engaging with other preschoolers for a meaningful relationship with them, etc. For more information on our programs developed with rich experience and international collaborations with JV partners, contact us now!
Be the first to post a comment