How to Choose the Best Children Care Center Post-Pandemic?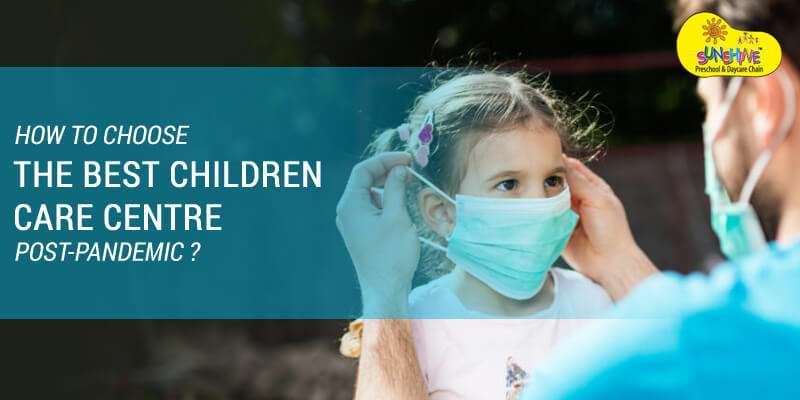 We live in very uncertain times, with the pandemic having wiped out two years of our children's schooling. And now, with things slowly returning to normal and a slew of childcare centers springing up all over the country, how can we choose the best childcare center for our kids? Is there ever such a thing as an ideal daycare center?
To make things a little simpler for you, we have created a brief checklist.
Crucial Factors to Consider While Selecting the Best Childcare Center or Preschool
Asses the Caregivers

When you visit a center, observe how the staff interacts with the children. Ideally, a caregiver should be on the floor with the children, either playing or interacting with them. Infants require tight, caring, and engaging interactions with adults in their early years to flourish. Hence, you should look for warm and responsive caregivers to enhance your child's growth.

Do a Policy Check

Find out whether you have similar parenting beliefs on things like punishment, television, eating, sleeping, and so forth. Inquire about the policies for sick children. Inquire whether there is a backup plan in place if the family day-care provider or in-home caregiver becomes ill and is unable to work. The more questions you ask early on, the less likely you will be disappointed later.

Ensure Safety and Security for Your Child

Safety and security should always be your top priority, especially in current times. With the CDC establishing rules to ensure we are constantly protected from the COVID virus, it is even more crucial for us to ensure that the center where we enroll our children follows the same steps. For a safe and secure childcare center, non-toxic toys, safe learning equipment, and strict security policies, among others, are vitally important for ensuring your child's safety.

Look for a Holistic and Stimulating Environment

A childcare center is much more than just a location where children may be watched. In an era where there is a lot of emphasis on early childhood education, having a space where your kid may explore and learn as they grow is the talk of the hour. From well-structured curriculums to dedicated and supervised learning spaces to skilled and competent staff who can assist your child acquire ideas in various ways, look for the best facilities for your child.

Trust Your Gut

Every parent recognizes when things aren't quite right. You can be put off by a facility that everyone in town loves, or you might disagree with a highly recommended sitter. If this happens, keep looking. Children need and thrive in loving environments. If something about the place doesn't seem right, look for alternative options.
Enroll Your Kids at Sunshine Preschool Center
With more than 17 years of experience in this field, Sunshine has pioneered preschools plus daycare centers in India. We are one of the top childcare centers based on certified RepuGen ratings. As we operate with strategic partnerships from CfBT UK and Old Station Nursery Chain, UK, we ensure that your child gets world-class care and support.
Contact us today to know more about our daycare centers and how you can enroll your kids there. We strive to thrive and develop your children under our care and guidance.
Be the first to post a comment