8 Best Preschool Online Christmas Activities You Must Try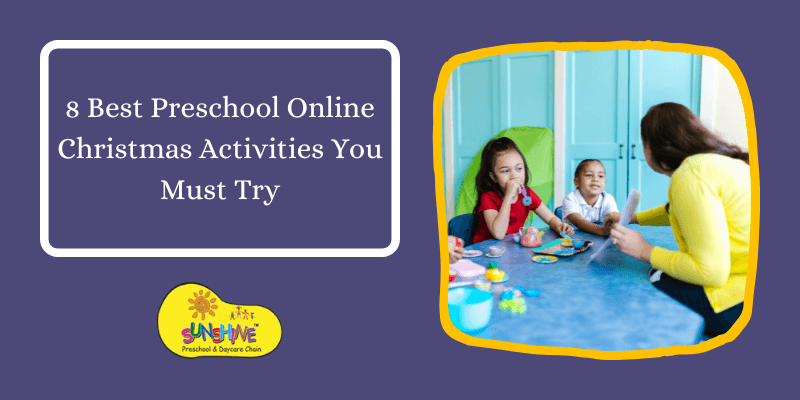 Winter is coming!! And so is Christmas! With Christmas around the corner and as the season feels fly in, the classrooms are filled with the spirit of joyousness and merriment. Teachers are now pulling up Christmas activities to build festive vibes in schools.
According to Teacher Boards, Christmas activities in a class can help uplift the mood of a classroom and teach the kids to connect with each other and spread joy and happiness. They also learn the concept of sharing and how one act of kindness can bring a beam of smiles to others.
If you are looking for some exciting and entertaining online Christmas activities, you are at the right place.
8 Best Preschool Christmas Activities
Here is a list of the eight best online Christmas activities.
Make Christmas Cards

Children love anything that taps their creative side. In this, you can teach the students well in advance what and how a Christmas Card should look. You can teach them how to draw different icons and symbols like snowflakes, bells, Christmas trees, cakes, etc., and words associated with Christmas like Merry, Happy, etc. They can then make Christmas cards for their favorite person and then show them to you virtually.

Santa Says

Santa Says is another fun game that can be exciting. Here we modify the well-known Simon Says game and up it to the Christmas beat. Teachers can dress up as Santa and give commands like ringing Christmas bells, making snowflakes, eating pudding, and unwrapping Christmas presents. Students can then follow these commands at their home while you watch and assess them virtually.

Christmas Tongue Twisters

Tongue twisters always make us belly ache with laughter. Try these tongue twisters as a sample, or make your own.

Santa sang seven songs.
Bobby brings bright bells.
Ten tiny tin trains toot ten times.
Eleven elves licked eleven little licorice lollipops.

Ask your students to enounce them one by one.

Holiday This or That

This is a great game to bring solidarity and a sense of togetherness. The teacher can read a series of options named 'This or That,' and the students can pick what they prefer and why. Some prompts that you can use, to begin with are:

Snowflakes or Icicles?
Plum cake or Vanilla cake?
Trees or wreaths?
Xmas eve or Xmas mornings?

Christmas Numerical and Pattern Activities

There are many Christmas pattern-based block mats available through which you can teach kids different patterns and shapes. You can also use Christmas stickers, sticks, marbles, and other items to teach Maths to your students in a fun way. Ask them to count the number of sticks or show them a picture of a decorated Christmas tree and ask them to count the number of gift boxes or bells attached to it. You can give a shout-out to the one who counts correctly and fastest.

What Am I?

A great and interestingly fun activity is "What Am I?" In this game, you can make a set of 10-20 questions describing anything related to Christmas, and the students have to guess the word based on the description. A maximum of 3 clues can be given to the students.

What Do I Want for Christmas – The Telepathy Game

In this game, students need to guess using their telepathic abilities what their teacher or another student is wishing for Christmas. You can make a template and write the first two letters to help the students guess better. This game is a really fun online game for students who love to pretend to guess and play along.

Christmas Guessing Game

Online Christmas games for kids are fascinating. You can have this fun activity, the Christmas Guessing Game, where you play a movie and share the screen in your online class. There are 10 rounds, and each round shows kids an outline of a Christmas object. Before time runs out, students must try to guess the Christmas word. You may ask your students just to yell out the answer, or you can stop the movie while they jot down their responses.
Final Takeaway
Christmas is the best time to build team spirit and encourage kids to participate in events that take them away from the chaotic study timetable. Teaching your preschooler is very important as they learn things faster and remember things better at this age. Engaging in such fun holiday–based activities will teach your students how to make meaningful relationships with others.
Enroll Your Kid in Sunshine Online Preschool for Holistic Development Today!
We at Sunshine Preschool & Daycare are dedicated to providing holistic student development through our online preschool. Whether it's Christmas, New Year, or any other occasion, we ensure kids have a wonderful time while learning new things. Contact us today to enroll your child!