9 Features that Make the Sunshine App More User Friendly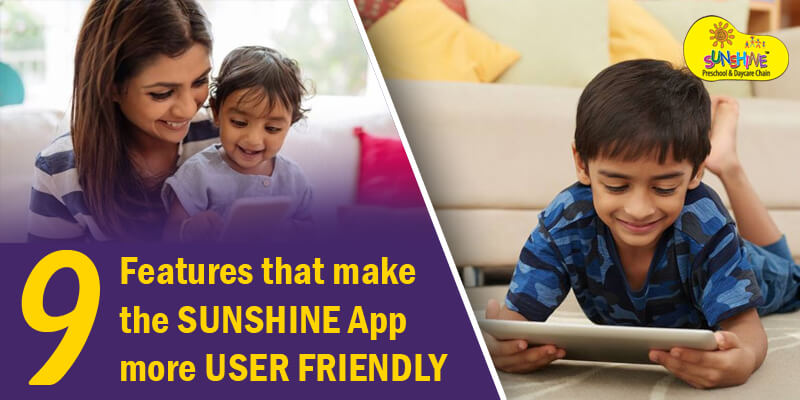 Nowadays, preschool learning apps have become quite popular. Traditional homeschooling, clubbed with the latest technology, not only offers the advantage of superior academics but also allows them to grasp important skills such as planning, listening, socialization and self-control.
The best educational apps for preschoolers provide a head start to the educational journey of your little ones. Give your child a great learning experience with the best preschool learning app that is beneficial for their fundamental growth. In addition, these apps can be tailored to meet the requirement of each child's individual needs.
At Sunshine, we strive to develop an interactive platform that positively impacts children's learning experience. The app engages preschoolers in age-appropriate, activity-based teaching, which is divided into hours of theme-based learning sessions. Our app is also the best choice for preschoolers due to its easy-to-use experience, kids-friendly design, and interesting features.
Some Unique Features of Sunshine's Preschool Learning App
Here are some of the unique features which make Sunshine Preschool Learning App a balanced learning platform:
Organized Study Material

The Sunshine preschool app covers a range of fundamental subjects like Reading and Phonics, Early Math, Colours and Shapes, General Knowledge, etc. All these are made available in the form of colorful notes and question banks with solutions.

Flexible Schedules

We offer personalized schedules that help parents track upcoming tests and also offer special notifications to keep the students and parents informed of scheduled classes. Pre-recorded sessions are available if a child misses the class or needs revision of a particular section.

Tracking Activity

The app optimizes the potential of every child by providing online practice assignments and tests. These online study materials ensure the students master the internationally acclaimed syllabi.

Theme-based Learning

Our online curriculum is split into various themes that make the learning journey a fun-filled experience. Currently, the app covers themes on Festivals, Seasons, Habits, Food, Numbers, Colours, Animals, and much more.

Learning Methodology

Our curriculum is taught using the play-way methodology to enhance the learning process. Fun, interactive and engaging study modules provide a more productive learning experience for children.

Personality Development

Apart from the traditional learning experience, the Sunshine app provides activities that encourage students to share their thoughts, manage emotions and create a positive self-image. Preschoolers are taught to interact more with peers and engage in meaningful relationships.

Fun Books and More

In this section, you will find various e-books and online study materials that will help in the qualitative development of your children. They will enjoy and learn various things that will benefit them in the future.

Fee and Receipt Management

The app helps you manage fees easily. You will receive the receipts of the fees due on the app so that you don't miss paying them on time.

Dedicated Teachers

At Sunshine, a devoted team of teachers helps preschoolers to inculcate conceptual learning methodology, thereby nurturing a child's overall development. Furthermore, a live chat enables effective two-way virtual interaction with the tutors.
Download the Most Interactive Learning App for Preschoolers!
Sunshine is among India's best online preschool providers, ensuring children get high-quality, safe, secure, and well-structured learning environments. We not only focus on the educational aspect but on the overall growth of your little ones, which plays an essential role in their future development. Download the app now to provide your child with a holistic learning experience.
With this user-friendly app feature in hand, you will not only receive the timetable for classes and tests but also organized study materials for your kids. On top of that, you can access this app from Android and iOS devices and even from PCs.