Participation of Sunshine Preschools & Corporate Creche at TFMC Summit 2022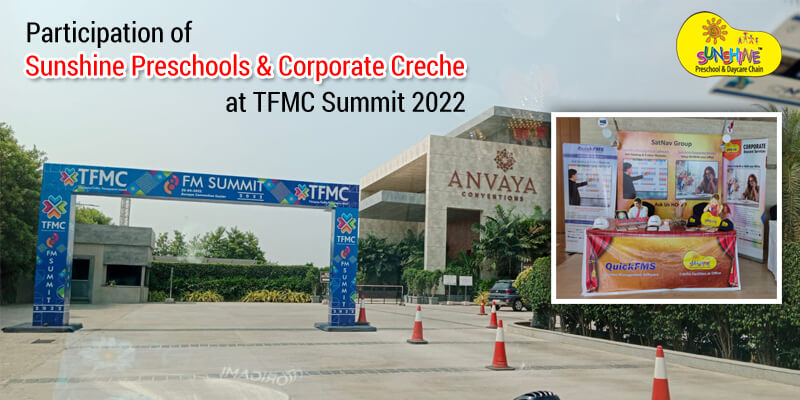 Sunshine Preschools & Corporate Creche participated in the 8th National Facilities Managers Summit 2022 organized by Telangana Facility Management Council. This event was held after a long gap of two years post-pandemic and was planned in the backdrop of the debate on the future of the work of IT employees. i.e., Future of work, as in 'will it be work from the home, office, or hybrid?' And how the facilities management professionals can ensure the safety of the workforce.
Ins and Outs of the TFMC Summit 2022
Well over 400 facilities management professionals participated in the summit, held on April 22, 2022, at Anvaya Conventions, Gachibowli, in the financial district of Hyderabad.
About 30 CEOs participated in the same.
The summit focussed on future technology, especially AI Practices, which every Facility Manager will use in the next ten years.
The day-long summit had panel discussions, round table conferences, and discussions on a wide variety of subjects of interest for their profession.
There also was an interactive session on the Minimum Wages Regulations Act with Dy. Commissioner of Labour, Mr. Chandrashekar.
Dr. Srinivas Rao - Director of Public Health, spoke on Pandemic Post & Pre effects on the Industry – An overview and way forward to tackle Pandemic.
Sunshine's Take on the TFMC Summit 2022
Sunshine team met and presented the importance of providing daycare services as part of important facilities in a corporate setup to the stakeholders and participants during this summit.
Why Sunshine is Pioneer in Setting up a Creche Facility in the Corporate Offices?
Sunshine has extensive experience establishing childcare centers, baby creches, and daycare in corporate settings. That, too, at a reasonable price so that it does not drain one's bank account. Sunshine's corporate creche provides various benefits like boosting the employee's talent, which is needed to build a high-performance workforce. The creche facility services provided by Sunshine help in the retention of talented employees who want to have a balance between family and work. It also helps female employees by providing child care for new mothers and enhancing job satisfaction. Furthermore, the creche facility boosts work productivity by reducing distractions for the employees.