Easy-to-Do Physical Development Activities for Toddlers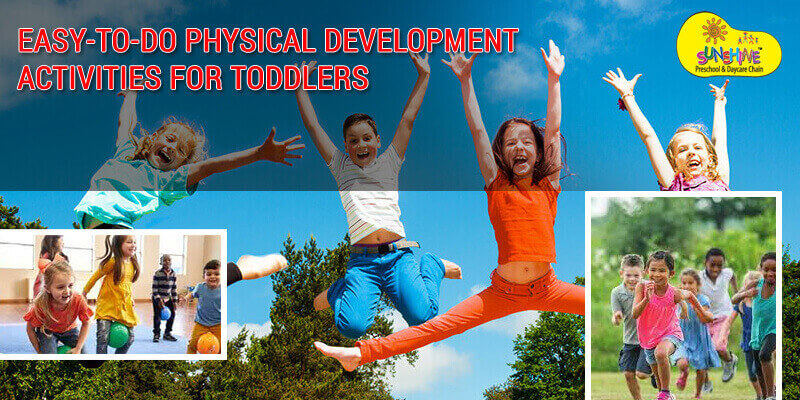 Promoting physical activities in children is essential for their long-term health and well-being. While helping a child enhance their gross and fine motor skills, physical development activities for toddlers promote their cognitive and social skills, such as thinking, problem-solving, interacting, exploring, understanding, etc. Also, children who are active in their early childhood usually develop healthier lifestyles with optimal physical and psychological developments.
So, foster physical development activities in toddlers to help them maintain healthy body weight while promoting skills and abilities needed for their adult life.
Here are Some Simple Physical Development Activities for Toddlers:
Activities for Fine Motor Skills
For Wrist Strength
Encourage your child to do pounding, chopping boiled vegetables with a toy/plastic knife, hammering, and opening lids and knobs.
For Finger Strength
Engage your child in:
Peeling fruits (such as orange and banana) and shelling peas.
Doodling - An act of creating drawings or texts randomly. While strengthening your child's finger muscles needed for writing, doodling helps to enhance their creativity.
Manipulating playdough - Calms their mind while helping them to explore various shapes through patting and moulding.
For Eye Coordination
Ask your child to scoop/pour pulses, water, sand, etc.
Activities for Gross Motor Skills
For Muscle Development
Walking, balancing, running, climbing, and jumping are crucial for muscle development. Therefore, engage your child in some activities that include these physical movements, such as:
Walking and balancing on a line or beam
Playing games like a treasure hunt or creating a maze
Passing the ball over the shoulders, from both sides, over the head, etc.
Arranging blocks on the floor
Playing outdoors (such as in the park, garden, or backyard)
While physical development activities are good for toddlers, children who are always on the move experience little difficulties engaging in sitting activities, as their muscles have no time to relax. Therefore, help your child practice the following gross motor activities that involve sitting while contributing to their muscle relaxation:
Simple stretching exercises like lying down and cycling
Sitting and rolling a ball
A little massage before bedtime helps to relax muscles
Partner with Sunshine for Your Toddler's Physical, Educational, and Cognitive Development
Sunshine Preschool & Daycare provides a toddler program for children aged 12-18 months. By offering fun activities for your toddlers (like arranging toys, matching colors, making handprint art, etc.) in an educational and emotional environment, we help them to explore, inquire, be physically active, and find solutions.
Contact us today to learn more about our toddler program and how it helps your toddlers achieve all-around development.
Be the first to post a comment