7 Most Important Safety Checklists for Corporate Crèche facilities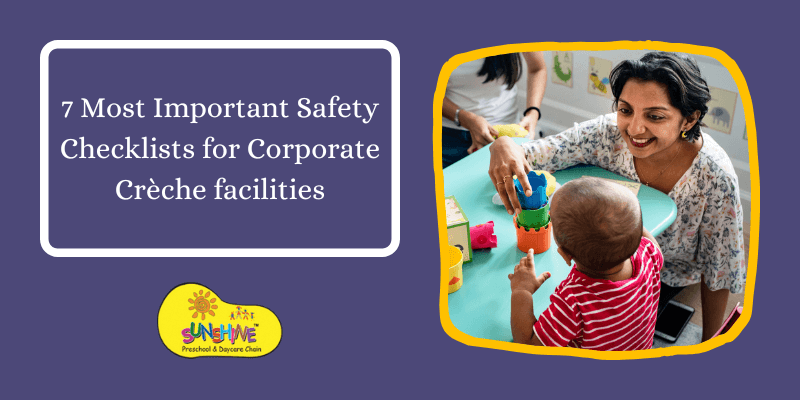 Taking care of a child while hustling with work can prove to be a herculean task. If you are a parent who is busy with your career or a single working parent, you must be looking for a crèche that can safely take care of your child while you are at work.
The Indian government amended the maternity benefit act in 2017 making it compulsory for every company with more than 50 employees to have crèche facilities on their premises. However, the number of crèches has astonishingly declined recently under the National Crèche Schemes with only 6458 crèches functioning in 2020.
The reduction in crèche facilities is an alarming sign, and with a lesser number of crèches, it has become even more important to find the right one for your child. Parents also need to be aware of reports about injuries to children at these facilities. Hence, you must develop a crèche safety checklist when selecting them.
7 Important Issues You Must Address in Your Crèche Safety Checklist
Safe and secure location

Having a safe and secure premise is one of the first things to look for when ensuring crèche safety. Generally, crèches are available in the office campus itself but sometimes they are outside the campus in the 500-metre vicinity. In any case, you need to check if the crèche has CCTV cameras at all the important points and you must have access to the CCTV camera on your phone. All non-family members must be registered before they are allowed inside for safety. The facility must also consist of child-proof locks to avoid any mishaps.

Valid operating license

After you get clarity on the safety of your child for crèche, you must focus on the accreditation and licensing of the facility. You must ensure that the crèche facility is crime or fraud-free. Check for the official license and confirm the authenticity of the crèche facility and staff members with your work colleagues.

Sick child policy

We need a clear picture of what happens to children who fall sick or are sick. How will the crèche providers tackle this situation in a way that the other children will stay unaffected? A policy for a sick child will help parents to understand how the crèche facility will handle such situations.

Emergency preparedness

An emergency can be both man-made or a natural calamity that needs preparedness for such unfortunate events. You, as a parent, must check how the facility proposes safeguarding the children in the crèche. Are all the emergency entry and exit points properly constructed? Are all the emergency instruments well-equipped and in good knowledge of the staff?

Health precautions

Healthcare emergencies require special attention and specialized staff who know what to do and how to care for children of tender age. As a parent, you must be aware of how crèche providers handle such emergencies. You must also check if there is an on-call or in-person doctor available to tend to these children. The crèche must have a medical kit, first-aid, and basic medications suitable for children. The staff must be aware of the child's allergies before providing them with any medications.

Social safety

Social safety is the next domain that needs our attention. What is the policy stated when it comes to people being allowed into the facility? Are they checked thoroughly? Are these people strangers, or do they know them? Has there been an incident of any form of abuse to the children in the past? What precautions does the facility take in order to protect children from hurting or harming each other? The staff-to-child ratio must be from 1:6 -1:10 and not beyond to ensure proper attention is given to every child.

Clear lines of communication

Clear lines of communication must be adapted by the facility for transparency. The information on the child's activities and daily routine in the crèche must be intimated to the parents.

Spending a little bit of time and ensuring your child's crèche facility meets all the above-mentioned requirements, can help both you and your child have a peaceful time.
Ensure Your Child's Safety While You Are at Work with Sunshine Crèche facility
If you are searching for a licensed and safe corporate crèche for your child, we at Sunshine Preschool & Daycare provide the most safest and secure environment so that your child can develop and grow their abilities and be school-ready. With the help of our dedicated staff of over 245 people, and various smart programs to help enhance your child, you can rest assured that your little tiny tot would learn something new every day while you are at work. Visit our website or contact us today to learn more!