The 7Cs of Learning for Children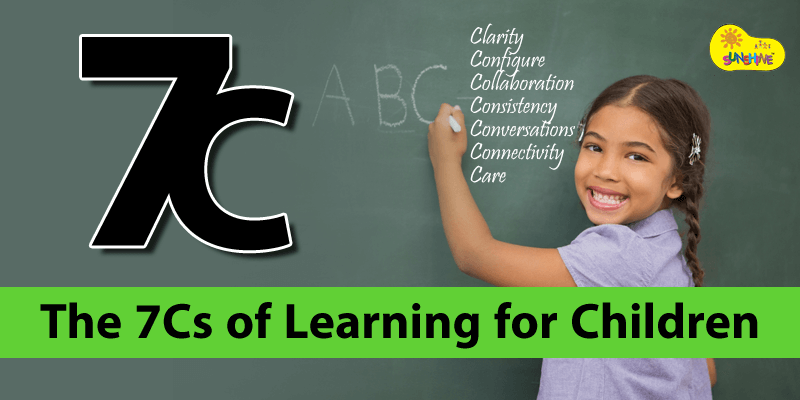 This pandemic has dealt a serious blow to the studies of kids all across the world. According to a survey, in 188 nations, schools are closed for 91 percent of kids. Approximately 1.6 billion kids cannot attend school in person. Due to school closures, more than one billion youngsters are in danger of falling behind. In contrast many faces the risk of never returning to school, which completely undone years of progress made in education worldwide.
This serious impact is unbelievable and will be seen for years to come. For this kind of situation, you need to take serious measures for your kids and choose the right path of learning for them. Don't let the pandemic become a hurdle to your child's study. See the 7Cs of continued learning for kids for a better understanding.
The 7Cs for Your Children that Will Ensure Continued Learning
Clarity

Children engaging with one another in group settings, being near to nature with hands-on learning, and sensory discoveries through touch or feel are all excellent ways for them to learn. The pandemic has taken away these privileges from us, so we must find a middle ground that supports our children's learning curves. Even when schools are closed, learning does not have to come to a halt. And for that, even if we have to shift our previous views about learning, we had best be prepared. Adopt fresh learning and teaching methods for your child, and don't be afraid to go for the middle ground in the current situation.

Configure

Accept the omnipresence of the screen in today's environment while using new learning measures. The essential thing is to use the screen intelligently; not everything about it is inherently negative. While many adults regard screen exposure as a monster capable of devouring up the most significant hours of children, online interactive sessions, may be a tremendous source of learning for children. To ensure continuity in your child's learning, use well-configured online educational content if it is accessible.

Collaboration

This is the time when you need to collaborate with teachers and educators for the betterment of your kids and provide better learning to them. Parents need to trust school policies and practices under this pandemic. Likely, educators need to put importance on the trust of parents when it comes to their children's learning. So always stay connected with the teachers and share vital information about your children.

Consistency

Routine is a vital part of learning where day-to-day functioning provides predictability to your child's brain. This will develop a sense of security in them. You need to develop a routine that will signal your kid's brain that a particular time is coming for a particular work. Consistency is the key, whether it's online classes for preschool kids or reading a favorite story.

Conversations

Talk with your children as much as possible. Conversation with your kids not only develops the learning curve of children but it also enhances bonding. Recognizing their feelings and emotions, answering their inquiries, and asking questions to them are all excellent methods that contribute considerably to children's growth and development.

Connectivity

Children learn best when they are surrounded by their classmates and friends and socialization can broaden their horizons for creativity and curiosity. If your children feel detached despite maintaining social distance, you may keep them socially engaged by using technology wisely. Video chats with friends and extended family members are an excellent way to maintain social connectedness during times of social separation.

Care

To be "successful" later in life, children must learn basic life skills such as self-control, behavior management, and emotional regulation in their early years. Self-regulation is essential for a child's long-term physical, psychological, behavioral, and educational well-being. And, in order to keep children learning for their own good, parents must take care of their own mental health. So, before you invest in your child's learning curve, invest in yourself.
The Perks of Choosing Sunshine for Your Child's Daycare
Sunshine Preschool & Daycare provides a number of entertaining and helpful activities during its online preschool classes, such as painting and crafts, reading stories and poetry, solving puzzles, and sorting games, all of which help youngsters develop a love of learning. We also implement the 7Cs learning concept for children in our preschool online classes. Contact us today for further information or enroll your child on our distance learning programs.