Most Common Challenges Faced by Working Mothers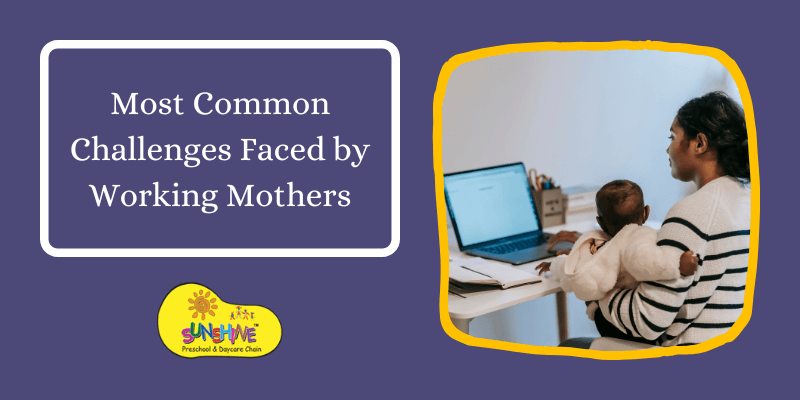 It is an open secret that being a mother can be challenging for any woman. Being a mother is a complex, multifaceted task requiring time, energy, and resources. The increasing number of women in the workforce has led to a rise in their challenges when managing their personal lives and work commitments.
Over the years, there has been a lot of discussion on the struggles and challenges faced by working mothers. However, challenging it to be, it is also gratifying to raise a child. So, let's try to explore and understand the challenges of working mothers.
Challenges and Struggles Faced by Working Mothers
Finding a balance between work and family

Working mothers often struggle between work and home. It becomes more challenging if they have young children or long and irregular work hours.

Dealing with guilt

Many working mothers feel guilty about not being able to be with their children all the time, especially during their early years. It is sometimes complex to cope with this emotion.

The struggle of finding quality child care

Finding quality child care that is affordable and convenient can be a challenge for many working mothers. It can add to the hardships in areas with a shortage of childcare options.

Navigating the social dynamics of the workplace

Working mothers may face discrimination or biases, making it more difficult for them to advance in their careers.

Inconvenient time

Frequent interruptions from calls about their children can make it challenging for working mothers to maintain focus on their tasks at the office, potentially impacting their job performance.

Difficulty in making choices

For a mother choosing between work and a child is the most difficult task. These daily sorting of priorities can make life tough for even the best time managers. It is important for employers to support struggling moms and provide them with the resources and flexibility they need to be successful in both their professional and personal lives.

Taking leaves for children

A child's health is the topmost priority for any mother. For working mothers, taking a leave for their children can be a difficult decision. On the one hand, they are responsible for their child's health, and on the other hand, they may feel obligated to do their job.

Coping with the emotional demands

Being a working mother can be emotionally draining, as they may feel pulled in different directions while struggling to meet the needs of both work and family. For a mother, it's very difficult to focus on work, leaving her child at home.
How Can You Overcome These Struggles of a Working Mom
Here are some tips to help working mothers find a balance between work and child care and overcome some challenges they may face:
Seek support from your colleagues, family, and friends.
Plan and organize your home and office work.
Find a flexible work arrangement.
Discuss your needs with your employer
Do not hard press yourself
The Struggling Working Mom and the Role of Employers
Female employees can benefit from the childcare services like corporate creche offered by their employers. These facilities can be very affordable and convenient for mothers who also work.
Why Sunshine's Corporate Creche is a Working Mom's Best Friend?
Our in-house corporate creche services help working mothers enjoy the convenience of keeping their kids nearby instead of dropping their kids off at a different facility. It helps eliminate the time and stress they would encounter.
Operating on the principles of
Convenience
Affordability
Quality
Flexibility
Sunshine Preschool & Corporate Creche provide a supportive work environment that considers every working mother's childcare needs. These facilities help working mothers feel more supported and able to focus on their work, which can ultimately benefit the employer as well.
Be the first to post a comment