The Perks of Having Crèche Facility in Government Offices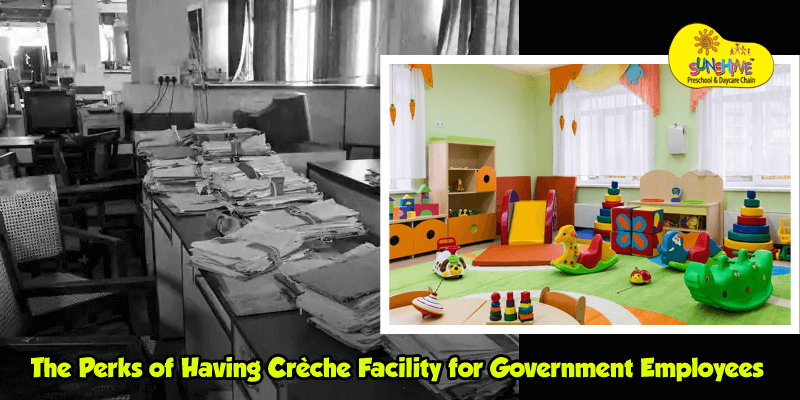 Can a child or toddler live in the home alone? The answer is NO. However, it has been observed that Indian cities adopt detailed working schedules, making it extremely difficult for government employees to care for a child without having a creche facility in the government offices that follow safe and hygiene norms.
A crèche is where babies and young children are cared for when their parents are involved elsewhere, like working, studying, shopping, etc. It is a kind of daycare facility for your kid. Crèche facilities are primarily established for working women and parents with toddlers and preschool kids. This article discusses the benefits of having a crèche facility for government employees.
How Can the Crèche Facility in Government Offices Keep their Kids Engaged Creatively?
Having a crèche facility in government offices mutually benefits the employee. Employee retention is the major benefit of offering workplace daycare. Several businesses are struggling to balance work demands with parents' responsibilities. An in-house child care facility helps new parents return to work with parenting responsibility.
Kids are kept engaged by using different games and activities that teach life skills secretly. Several games are played in crèche for children to enhance their mental and physical ability: These
Help children master control over their body and maintain body rhythm, which is a core of numerous other skills.
Establishes a sense of teamwork and cooperation in kids
Builds fine motor skills
Promotes creativity
Improves cognitive development and boosts memory skills
Helps children improve their analytical skills
Supports building social intelligence
Activates thinking procedures in kids
All About the Maternity Act 2017
The Maternity Benefit Act was passed by the central government and enforced and implemented by the ruling state government in all organized and unorganized sectors, excluding mines and circus industries. It has increased the paid maternity leave available for women employees from 12 weeks to 26 weeks.
Features of Creche Facility Under the Maternity Benefit Amendment Act 2017
Compulsory crèche (daycare) facilities for every establishment across all sectors employing 50 or more employees visiting the crèche four times a day are also included.
Crèche facilities to be set up within a prescribed distance from the working premises and to be available for children aged up to 6 years.
The Work from Home (WFH) option may be beneficial after the maternity leave expires.
Provisions of Maternity Benefit Act 2017
Section 11 A was introduced by the Maternity Act as an important provision. It states that any establishment with 50 or more employees shall avail crèche facility. This provision has generated several discussions and debates among employers about whether the provision can be interpreted as applicable to establishments with 50 or more female employees or with 50 on more employees.
Importance of Maternity Benefit Act for Government and Corporate Offices
Onsite daycare facility offers the following advantages at government and corporate offices:
Reduced absenteeism, as employees take fewer day-offs to care for their children as they are nearby
Increment in productivity due to parents being less stressed out as the kids are close and safe
Since the employees don't take too many sudden leaves, it minimizes the added workload on other employees and reduces their stress levels
Employees have increased loyalty to an organization that offers to accommodate their team's needs
Increases workplace attachment as companies are more accommodating and help employees maintain their work-life balance
Why Choose Sunshine Preschool for Setting a Creche Facility in Government Offices?
Sunshine Preschool has over a decade's experience and expertise in setting up affordable childcare centers, baby crèches, and daycare in government and corporate offices.
Since 2005, we have been pioneers in India's preschool and daycare concept, serving as your trusted parenting partner and education partner.
We have a network of over 40 locations in India, offering a safe, warm, and motivating environment for children.
Sunshine Preschool is known for its world-class early childhood education and care programs.
We have comprehensively designed learning spaces and a dedicated team of teachers and caregivers.
Have you recently completed your maternity leave and are worried about your baby? Or have you applied for a job and need an appropriate habitation for your kids? Then contact us to get a perfect solution.