Importance of Having an In-house Crèche Facility in Your Company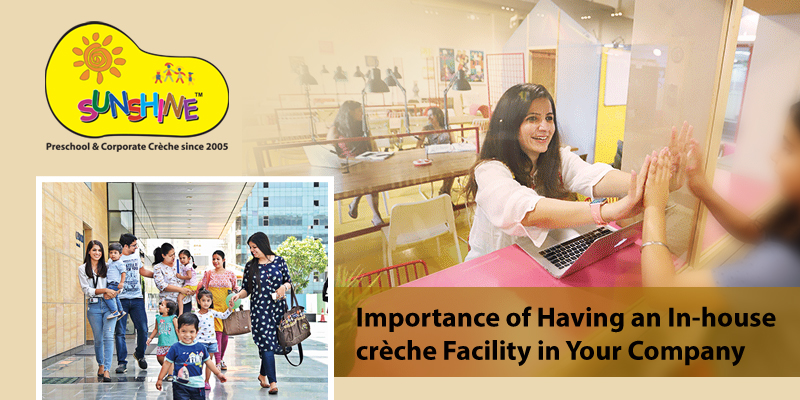 Many parents have found it challenging to manage their childcare obligations and job due to the pandemic. Before the pandemic, parents had various alternatives for child care, including grandparents, in-home caregivers, local crèches or preschools, and so on. In the new normal, however, they are not regarded as safe alternatives. Then what is the solution? An in-house crèche facility may be the answer.
What is an In-house Crèche?
In-house Crèche is a child care facility that employers provide in centers located at the workplace. For working parents, a significant challenge that often causes stress and can hinder an employee's ability to remain productive is their child's care.
According to recent surveys in this sector, just 9% of firms nationally provide on-site childcare to their employees. According to a study published in the Journal of Managerial Psychology, employees who got on-site daycare performed better and showed reduced absenteeism.
Major Benefits of Providing an In-House Crèche Facility to Your Employees
It will help them to stay worry-free at work
Better engagement and productivity
Empowers employees with flexibility
Millennials seek jobs with on-site childcare
Seamless transition post maternity break
Greater loyalty and commitment
More mothers are breadwinners
Offers emotional security and reduces stress
Some additional benefits are described in brief below
Today's Mothers Are Relatively Older

Today's mothers are entering into motherhood in their thirties. So they might be already in a senior post in the company, and it might be difficult for you as an employer to lose them because you don't have an on-site childcare facility.

More Dads Are Making Parenthood a Priority

Gone are the days when most of the responsibilities of a child were taken care of by their mothers. Now, fathers also want to contribute to their child's development so, having them nearby is a soothing experience for them.
In short, having an in-house crèche is a win-win situation for both the employers and employees. Sunshine Preschool has developed many corporate crèches across India since 2005 and currently working with various companies.
Sunshine's on-site daycare helps new parents return to work more easily and enables working parents to remain productive. Contact us if you wish to set an in-house crèche for your company.