Sunshine Ties Up with ClassPlus and Kriyo to Leverage EdTech and SaaS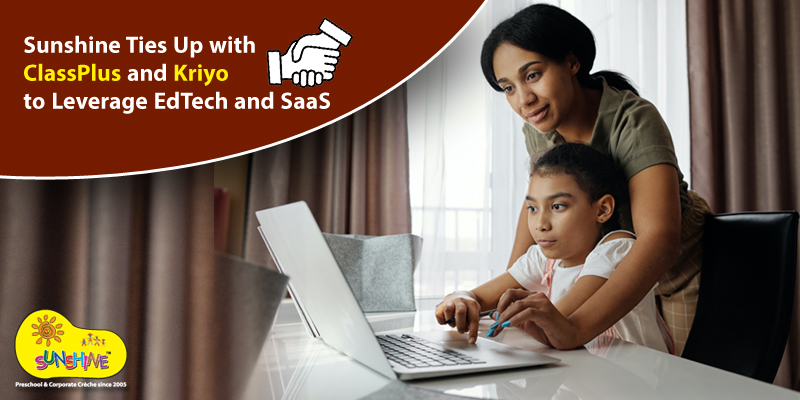 Sunshine Preschool and Corporate Creche, India's Pioneer since 2005 with a globally acclaimed teaching methodology and curriculum designed by UK Joint Venture partners, has now partnered with the immensely popular ClassPlus App to deliver its sessions backed with the physical guidance of local teachers. While also tying up with Kriyo School Management App for seamless collaboration between parents & educators, and award-winning QuickFMS Branch Monitoring App to get daily updates of safety checklist, hygiene protocols & security of each location to align with the new normal.
Speaking about this latest alliance, Sunshine's Founder & Vice Chairman, Amit Prasad, said, "Sunshine's online learning program has already been unparalleled in the industry, and with this recent move Sunshine will further be standardizing Preschool & Creche Education and significantly upgrading its outcomes by using EdTech & SaaS to achieve that goal for every child irrespective of which local school they are attending."
As the world transitions to the Phygital Model, the Sunshine team has been successfully working to reach out to a much larger pool of students with the help of technology. And this latest partnering truly highlights Sunshine's proven commitment towards comprehensive learning programs combined with the best of technology solutions. Both Mukul Rustagi, CEO of ClassPlus, and Sucharita Dasireddy, CEO of Kriyo, have expressed their happiness on this occasion and have said that integrating Ed and Tech will bring significant benefits to students while standardizing the quality of education. It will also enable the educators to manage all their operations efficiently with best-in-class technology.
About Sunshine Preschool
Sunshine, a Pioneer and Leader in the Preschool & Daycare space in India since 2005, is a venture of SatNav Group. It is a Joint Venture with UK-based Education Services Consultant, CfBT, a 150mn Pound Organization that helps run schools and nurseries in 20 countries worldwide. Sunshine also has a strategic partnership with Old Station Nursery of UK, and their Founder is an advisor and a Shareholder in Sunshine. Sunshine runs a chain of highly successful Preschools and Corporate Creches across the country.
Be the first to post a comment