Amazing Preschooler's Room Décor Ideas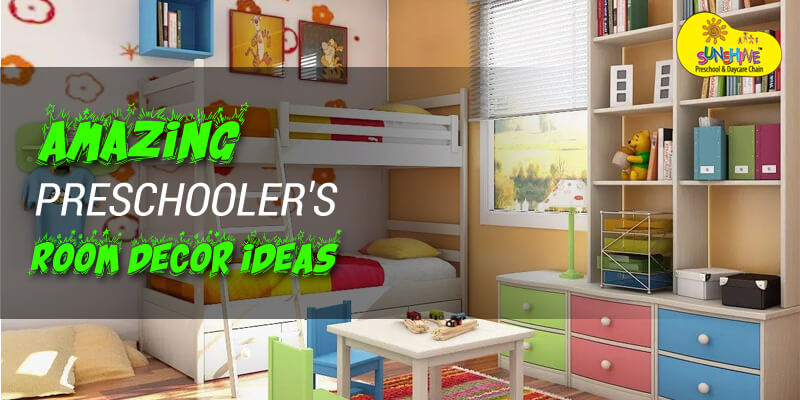 Do you have a toddler at home who is always actively seeking things to do? If yes, this article is meant for you. You can double up your toddler's room as a learning place for them and grow their interest in learning new things today and always.
Preschoolers are naturally very active and creative. They are always seeking out new things to try. So the décor of their room should ideally be such that it portrays their creative streak while also challenging their creativity. So a preschooler's room should always be very colorful and innovative.
Here are some amazing room décor ideas for your toddler:
A Reading Corner

Choose a corner of the room and place a colorful rug on the floor. On the wall of that corner, you can create a colorful tree. Encourage your children to sit underneath the tree to read out from their story books.

An Art Corner

Another corner of the room can be dedicated to their art and craft. Create a big frame on the wall and put a soft board within the frame. Let your children do their craft and hang them up there for all to see and appreciate.

Another Corner for the Bulletin Board

Add a bulletin board to another corner of the room. Your children can use the board to write their alphabet and numbers. Use a variety of colors to create the numbers and letters to keep the interest of your children active.

Room Comfort Is a Must

Make the room cozy and comfortable for your children. Decorate the room in warm colors so that they feel safe and happy within the room at all times.

Choose The Room Furniture Carefully

The room furnishing for a preschooler should be done very carefully. Stick to the basics, yet choose the essential ones for the room. Some key pieces of furniture you should ideally keep inside your children's room include a study table and chair and storage apart from a soft bed.

You can also add a tree house or a play gym if you have some space inside the room.

The Lighting of the Room

The lighting of a preschooler's room should be warm and decorative. You can use non-harsh pendant lights that look good for your children. There should also be windows in the room so natural light can enter during the day.

Change The Room Decors Every Season

You can try changing the décor of the room with the changing seasons. During the winter season, add a Santa poster on the wall or a decorative Christmas tree.

When it comes to adding posters in the room for your children, there are certain things that you should keep in mind. Here are some tips that you can keep in mind while choosing the right posters for the preschooler room:

Choose colorful posters that teach something useful to the children.
Do not use the children's grade cards as posters for the room.
Use decorative ideas to create posters. Encourage your children to draw and paste on chart papers to create posters themselves. It will enhance their creativity and also change the look of the room.

Identifying Animals and Birds in Their Surroundings

Hanging the animal and bird posters with their names would help them identify an animal or bird when they see them in real life, in books, or on TV. It strengthens their memory recall value.

Putting Posters in Different Languages

It enhances their concentration and also develops their critical thinking and problem-solving skills. Preschoolers are natural language acquirers. They grasp new languages faster as they are in continuous learning mode, and being multilingual helps them stand out when they grow up.

Expressions and Emotions

Pre-schoolers are very sharp-eyed and learn to express various emotions by mimicking their elders. Using the kid's poster for emotions will help them understand and express their feelings through emotions. Making faces using those emotions is a fun activity for the family.
Why Choose Sunshine Preschool & Daycare Services?
We have a network of over 40 locations in India with more than 16,000 alumni.
Has collaboration with hundreds of other centers.
Recognized for world-class early education and care programs.
Offer the Phydigital model of education combining the best of technology with proactive guidance.
Strategic partnership with Old Station Nursery Chain, UK.
Pioneer in the Preschool plus Daycare concept in India since 2005.
Centers have comprehensively designed learning spaces.
Loving & dedicated team of teachers & caregivers.
Provide a safe, warm, and motivating environment for children.
Sunshine Preschool and Daycare Chain is the right choice. If you have a toddler at home and planning to put your child into a preschool. We offer a world-class online preschool learning curriculum with various activities that keeps the preschoolers engaged throughout the day. Contact us if you are interested.