How Childcare Support Can Make Return to Work Transition Easier for Working Parents?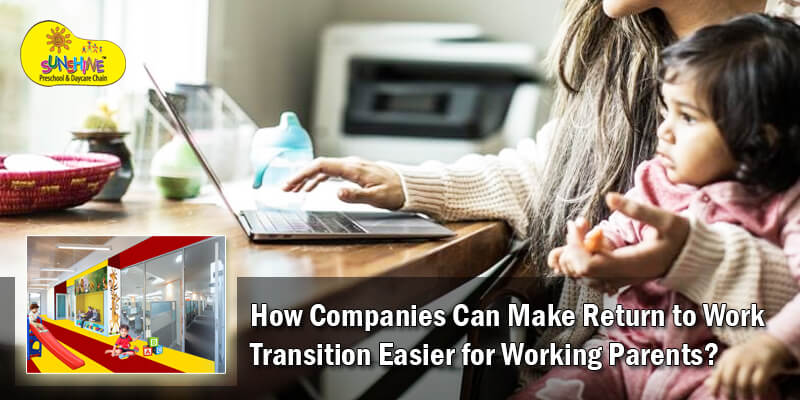 Finding the ideal balance between work and family can be challenging for any working parent. These issues are made worse by the pandemic, and India is currently home to many overburdened and stressed-out parents who find it very hard to provide proper childcare.
According to a survey, working parents during the covid crisis were forced to leave their jobs or cut back on their hours due to a lack of child care, with women being disproportionately affected. It also states that 60% of respondents who stated they had lost a job due to childcare issues were women, making the stress of being a good parent slightly more unfairly skewed towards women.
In this article, we will examine the difficulties families face today in finding proper childcare and how employers may help by offering valuable perks to employees.
The Challenges Working Parents Face Today
Being a working parent is not always simple in the current era. Although having children is a wonderful experience, parents who need or want to work may be confronted with significant challenges, exacerbated more so by the pandemic.
Finding The Right Childcare

Whether you work remotely or in an office, childcare is one of the biggest challenges working parents face today. More precisely, the issues of who will do it and how much it will cost have taken on critical importance. Finding good childcare at a reasonable price has long been a problem for working parents, but recent events have only made it more difficult and underlined.

Childcare Affordability

The cost of raising a child varies across India depending on the location, the age of the child, and the income of the parents. On average, it takes nearly 100,000 rupees annually to provide adequate care to young children. This becomes quite troublesome for parents as their average income annually is 200,000 to 400,000 rupees, especially for female parents. Due to this, parents may find it nearly impossible to find adequate childcare centers for their young ones.

Poor Childcare Quality

One of the major concerns of the parents is the quality of the care provided in a childcare center to their kids. Most parents find it hard to provide a safe and supportive educational environment to their children. This became even more evident after the pandemic, where the top priority was the safety of their children.

Inconvenience for the Parents

Childcare convenience has been one of the major concerns for working parents. For example, if the childcare center is far from their office? Or will the operating schedule of the center match the parents' work schedule? If these things are not convenient for them, then they possibly will not opt for childcare services. Due to this, their work-life balance is severely hampered.

Poor Accessibility Juggling Work and Life

One of the major reasons for poor childcare in India is its rate of accessibility. Many working parents find it hard to locate a childcare center that can fulfill their needs. Working a full-time job as a parent, especially for a female parent, can be quite tedious and demanding. Due to this, they also find it hard to go search for a childcare center.
A New Generation of Employers Are Rethinking Childcare Benefits
In traditional or hybrid work environments, companies can no longer ignore the childcare needs of their current and prospective employees. Working parents can benefit immensely from childcare benefits, but all employees, even those without children, may also benefit from it.
The benefits of childcare can help improve equality at work. Employers who provide childcare facilities for their employees experience an increase in job satisfaction, a decrease in absenteeism, and a higher commitment to their jobs.
Additionally, benefits ought to be provided to all employees, regardless of gender. All parents need support, even though statistics show that women get the most out of childcare support.
What Can Employers Do to Support Working Parents?
Depending on the industry, operational ramifications, and resources available, businesses can choose to assist employees' efforts in childcare in different ways. Finding the specific childcare challenges and their solutions should be taken into account, as both business and employee needs are always valuable.
Here are a few ways to address this problem:
Providing Access To On-Site Childcare

Companies may want to explore initiatives for on-site daycare for working parents. They could offer excess space in their facilities to childcare operators. Employers could benefit greatly if they solved the childcare dilemma of parents.

Bridging The Affordability Gap

Children's early years could be subsidized with whole or partial tuition subsidies, flexible spending accounts for dependent care, or innovative financing structures. Employers can provide such support to reduce the burden on their employees.

Flexible Workdays

Companies can let parents adjust the start and finish times of their workdays so they can better meet childcare center drop-off and pick-up deadlines.

Ensuring Greater Childcare Reliability

Companies should adopt ways with which they can ensure the best childcare for their employees. With this, working parents will have more trust. Not only the parents will be relying on you, but their working efficiency will also increase knowing that their kids are in safe hands. This is only possible if you provide them with reliable childcare facilities.
Providing high-quality childcare will not only distinguish employers from their competitors but will also create a long-term benefit that fosters retention. Creating a childcare infrastructure that will help working parents stay employed is now a creative business challenge.
Contact Sunshine for Setting Up On-Site Creche Facilities
In today's competitive era, a creche facility in the office is directly linked with employers' benefits and acts as a productivity booster for employees with a long-lasting impact. Sunshine Preschool & Corporate Creche is one of the leading providers for setting up on-site creche facilities in corporate offices. We have over 17 years of experience and have been providing childcare solutions to various organizations all over India. We provide a safe and secure environment for the children and ensure that your child receives world-class care and support through our corporate creche facilities.
Contact us today to learn more about our creche facilities and how they can be beneficial to you. We are always striving to deliver the best services for your needs.