Are On-Site Childcare Facilities Likely to Tempt Parents Back to Their Workplaces?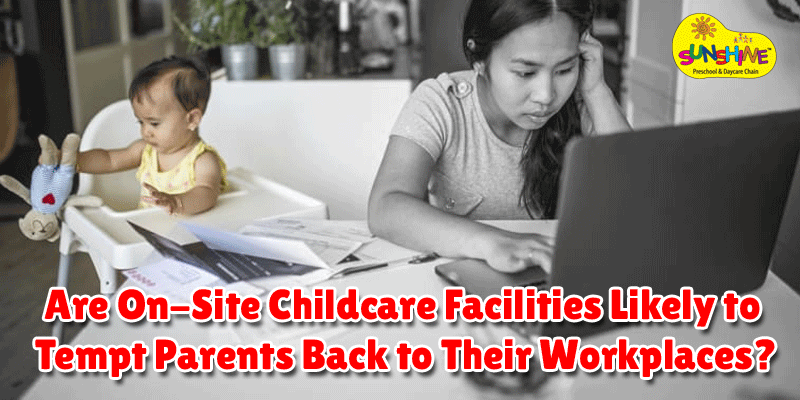 Working parents in India have struggled for a long time to find decent, affordable childcare, but recent events have made the situation much more difficult and emphasized the ad hoc nature of the country's childcare system. According to a recent survey, women were much more affected than men when it came to quitting their jobs or cutting back on their work hours due to a lack of childcare during the COVID crisis.
This reinstates the fact that companies can no longer disregard the childcare needs of their current and potential employees as they start to consider how to manage the returning talent and recruit new hires in traditional or hybrid work settings. Today, childcare is a corporate concern rather than a familial one. It influences our work habits, schedules, and, for many people, motivations, and hence it calls for action.
The Need for Inspired Action
Parents are reimagining their jobs and putting increasing demands on their employers. They are open to or actively pursuing new jobs today, but they would remain at their current jobs if they were granted childcare benefits. A majority of working parents have changed the way they live in an effort to be more accessible to their kids, as well as placing child care advantages at the top of the list when choosing a career.
Parents today need options for managing work while handling child-care obligations as they continue to look for ways to amuse, educate, and occupy their children. This is especially true for women, who continue to shoulder the most caregiving duties.
One of the first businesses in India to offer childcare benefits like crèches for new moms, HSBC even expanded the benefit to cover all primary carers in 2020 to help people combine work and caregiving.
"During the pandemic, we added options to deepen childcare and allow the flexibility to utilise the benefit meaningfully according to their unique need. Whether day care near the office or home, nanny care, or virtual care, an employee can access a suite of resources on our platform and reimburse the expense according to policy. And as we plan to transition to a hybrid way of working, this shift is here to stay," shares HSBC India HR head, Archana Chadha.
Thus, the demand for flexible childcare options has increased due to changing work habits and dynamic workplaces.
On-Site Childcare and Its Benefits
The aforementioned creates a significant potential for businesses that are concerned with attracting and keeping talent, particularly in today's cutthroat labour market. One of the best ways to help employees going forward is employer-sponsored on-site childcare. Everyone from employers to employees and their families can receive benefits from it.
Here are some ways on-site childcare can benefit employers:
Employees are able to fully commit to their roles

Without having to worry about childcare, your team is free to concentrate entirely on the task at hand and how they may contribute to the success of the company.

Increases loyal employees

Employees remain with their employers for a longer period of time because they feel supported, which results in longer employment relationships.

Families with working parents are happier and healthier

Organizing childcare is quite stressful and can lead to long-term problems for families. Employees with children perform better when they receive the proper assistance to address their childcare difficulties.
Indian Businesses and the Maternity Benefits Act
Research suggests that the Maternity Benefits (Amendment) Act of 2017 in India, which required the majority of companies to provide a generous 26 weeks of paid maternity leave as well as a crèche facility, did not contribute to a rise in the number of working women in the nation.
According to the study, 30% of women who return from maternity leave report having their pay reduced, 25% report not receiving the necessary assistance from family, and 20% report not having access to childcare services. The Act hasn't done much to alter societal biases and views. Due to the strain of household obligations, workplace discrimination against women, and guilt associated with working as a woman, women continue to quit the labour force.
Consequently, businesses must take on a political advocacy role both for themselves and the female employees and customers they seek. Childcare is essential to innovation, productivity, and profitability. Once considered a luxury, it has now become a necessity.
Invest in the Best In-Office Corporate Crèche Facility
Research shows that crèche facilities in the workplace are closely linked to employer perks and serve as a productivity booster for employees. Investing in new approaches for childcare support for working parents should be a priority for companies. A company that can achieve it will have a significant advantage in attracting and retaining talent. By offering strong daycare benefits, parents can maintain their concentration and productivity at work and not waste time worrying about how their children are doing.
Make the Best Use of Sunshine's Corporate Crèche Facility
With 15 years of experience, Sunshine Preschool & Daycare is one of the top providers of on-site crèche facilities for workplaces. Our corporate crèche facilities offer access to high-quality, education-focused child care, making us more than just child care providers. With our UK-based joint venture partner, we have designed a world-class theme-based curriculum for children of all ages. Our crèche is safe and hygienic and can fulfill all the distinctive desires of your employees and their children.
Be the first to post a comment