10 Reasons Why On-site Childcare Facility Should Be Every Business' Priority in India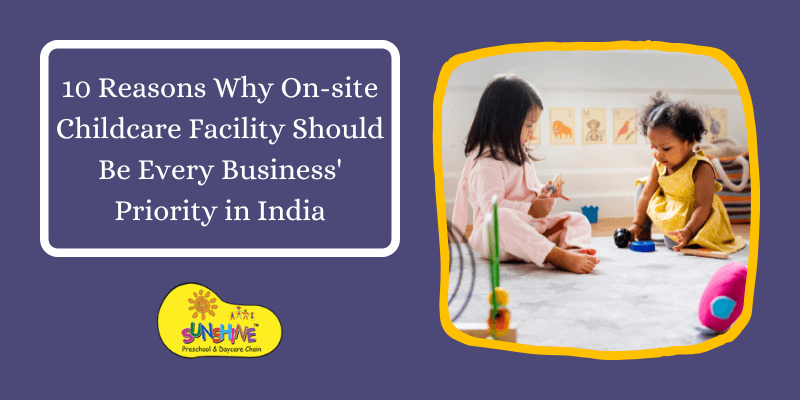 With the pandemic behind our backs, a lot of things have returned to normalcy, including companies welcoming employees back to their workplaces. However, many issues are yet to be resolved, starting from a creche facility for back-to-work parents. And in India, a country where every year 25 million babies are born, you never know when your employee will become a working parent.
Moreover, with the maternity benefit act amendment in 2017, every company in India with more than 50 employees needs to offer crèche facilities on their premises. However, as per the IFC survey, only 49% of big companies that were interviewed offer crèche facilities currently, and 21% haven't even planned to set up one in the future. The situation is even worse in suburban areas and in smaller companies.
Henceforth, this alarming situation needs to be addressed. If you run a company, you need to understand the need for a crèche facility at your premises.
Why Do You Need a Crèche Facility for Your Employees?
Even on its own, managing work-life balance is challenging. When a child is involved, the employees' focus shifts more toward the family. A survey has shown that 31% of Indian working mothers are providing full-time childcare and around 42% were unable to fully focus on their work with children at home. Another survey from IWWAGE has revealed that 71% of Indian women feel managing family and children hinders their career development and growth. In fact, 1 in 4 women and 1 in 10 men are forced to choose between career and childcare due to negligence by their employers.
This is why having a good childcare or daycare facility at your workplace is very important to retain your employees. A corporate crèche facility can help children to grow and develop under the company and guidance of their parents, along with giving them peace of mind while working. It is also significant to note that having a relaxed employee who is not overly concerned with their children yields better outcomes in any organization.
Benefits of Having On-Site Childcare Facilities
Here are ten more reasons why every company in India must think about prioritizing corporate crèche services for their own as well as their employees' benefits.
Providing On-Site Childcare Benefits Everyone

By providing your staff with the convenience of an on-site childcare facility, your company improves its reputation as both an employer and a business, and your employees will feel more valued.

Better Employee Productivity

It's been proven that parents who use a full-service on-site daycare center observed greater levels of focus and productivity at work. This occurs as a result of their total concentration on their work while the crèche facility ensures the well-being of their children.

Offers Better Flexibility to Your Employee

As childcare becomes more convenient and straightforward, a crèche facility gives employees more flexibility. This provides them with a better working environment, and they may eventually produce better results.

Jobs with On-site Childcare Are Widely Preferred

Even if they do not yet have children, many millennials expect a crèche facility when applying for jobs. They look for such jobs with future family planning in mind. Also, having children around makes the workplace livelier, and who wouldn't want to spend some time cuddling kids?

Seamless Transition Post-Maternity Break

For new parents transitioning from maternity leave to work life, returning to work with the knowledge that their child is being cared for nearby can be a huge relief. For new parents, having jobs that offer childcare makes it easier for them to return to work.

Better Appeal among Mothers in Senior Roles

With an on-site childcare facility, it might be easier to keep new mothers in the workforce, as many women today choose to have children in their 30s when they are supposedly in senior positions. This might make your business more appealing in terms of employment.

More Mothers Now Work as Breadwinners

Most mothers have advanced in their careers and now provide the majority of their family's income. They might find that having a childcare facility close by makes being parents and having a job simultaneously much easier.

More Fathers Are Prioritizing Their Children

The fact that the majority of working fathers today are just as committed to parenting as their partners make jobs with on-site childcare attractive to them.

Reduces Separation Anxiety among Parents and Tardiness at Work

Keeping kids close by could significantly lessen separation anxiety, especially for mothers, and promote higher levels of concentration, which would improve performance at work.

Increased Employee Satisfaction Leads to Increased Commitment

While your employees are more at ease with on-site childcare, they will have higher levels of employee satisfaction, which will eventually lead to greater commitment to your company's goals.
The Bottom Line
For all of the above reasons, any company seeking to dramatically increase its performance should make on-site childcare a top priority because it has a significant impact on the productivity of its employees. Additionally, it might encourage more workers who currently work in hybrid environments to return to the office. However, it should be noted that these services should be gender-neutral and not limited to mothers.
Retain and Improve the Efficiency of Your Employees with Sunshine On-site Childcare
Businesses have long looked to Sunshine Preschool & Daycare as a trusted Childcare & Edutech partner to provide crèche services to their workforce because of our broad experience of 17 years and in-depth knowledge of providing all childcare solutions. Through our corporate crèche facilities, we ensure that your child receives the best care and support in a safe, secure environment.
Get in touch with us today to find out more about our top-notch crèche facilities and how they can transform your employees into high-performing individuals to see your business grow.